Today, I'm sharing inspiration, pattern ideas, and free tutorials. ...Basically so you have NO excuse not to participate!
But before we get to that...we have blog buttons!!
Let me mention, I have never done anything with blog buttons before so I don't know the most convenient way to do them.
Which leaves
me
you with two options:
1. Right click on the button, save it to your computer and then add it to your blog.
Or
2. Copy the link below the button and add that URL code to your blog.
https://1.bp.blogspot.com/-F8gr05tUMGo/V0oqSwoY8PI/AAAAAAAAFpE/eL2T9holugMnZASf6omVvGFWc7rdtSZfQCLcB/s320/PB%2BTry%2B1.png
https://3.bp.blogspot.com/-20Ye_Z_-Hxw/V0oqS66Y1PI/AAAAAAAAFpA/CIfAnVoWZ68Lhn-HzBHn1zz38GuTDirfwCLcB/s320/PB%2BSimple.jpg
Now on to the planning...
I've put together a Pinterest boards with different Ready-To-Wear (
RTW
) pajamas sets (and such) with pattern ideas to create the look yourself!
I also put together a board with different printed patterns, PDF patterns, tutorials and FREE patterns.
The patterns by our group sponsors are highlighted in the caption! We would love if you'd support them!
That's a lot of content right there alone in the boards but lets keep talking a little more...
If you want to sew a classic pajama style...
Both Carolyn Pajama or Butterick 6296 are beautiful choices for a classic styled pajama. They also both come with a shorts option and a short sleeved option.
FREE Tanks & Shorts Pajamas...
If you would rather not purchase a pajama pattern or don't have one in your stash. Here are some free patterns that you could use to make pajamas.
Just need a printer, tape, scissors and some fabric!
(Click on pattern name to be transferred to the free pattern)
Sorbetto Top from Colette Patterns
First up is the
Sorbetto top
. It's a simple tank with no closures and bias bound openings. It features a box pleat down the center front.
Variations:
Make Sorbetto without the front pleat.
Add sleeves (Free add-on from Sew Weekly)
Scalloped Hem
Spring Shorts by Peppermint Magazine
These shorts with the paperbag-waist looks like they would be the perfect pajama short!
They come with a drawstring waist but that could be easily switched into a elastic waistband.
Get pattern & instructions in Issue 27: Get Shorty
HERE
Polly Top from By Hand - London
I just found the
Polly Top
today and knew it would be a perfect tank for pajamas!
The front panel brings the option for contrasting fabric and also eliminates the need for darts.
The
Polly Top
can be sewn in woven or stabler knit fabrics. (See entire fabric list on pattern page
HERE
)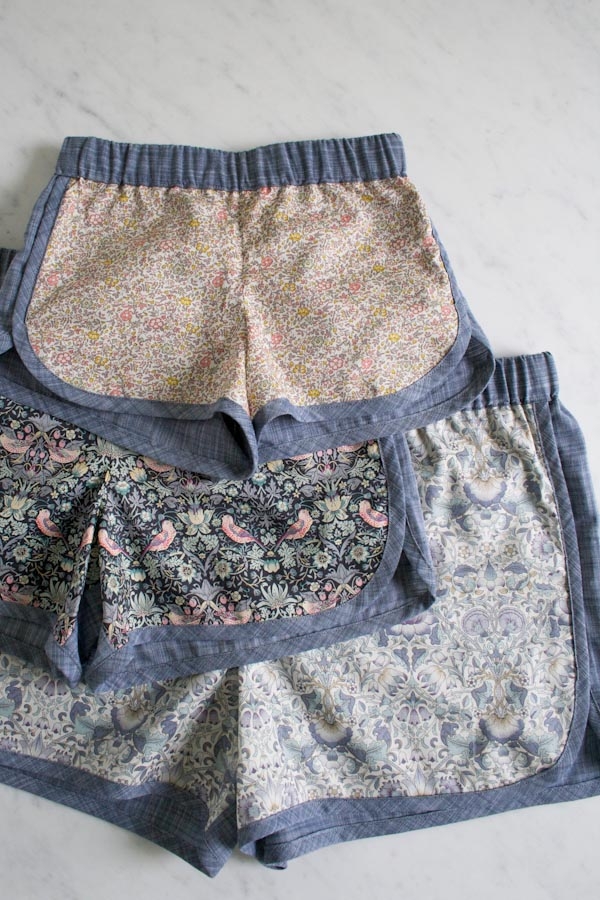 City Wide Gym Shorts by Purl Soho
The
City Gym Shorts
come in little girl sizes and ladies.
I think a matching set would be so cute with the main fabric on one being the bias binding of the other and vice versa!
The shorts don't take a lot of fabric making them a great for larger scraps.
I also believe using a pre-made bias binding would quicken up the project a lot.
Maybe you still don't know how you're going to use 6 pieces of sleepwear.
Don't worry! Here are some different charities that would fit in with our theme!
United States and Canada:
Ryan's Case for Smiles - Pillowcases
By sewing brightly colored pillowcases you help children (and their families) cope with the the traumatic stress of illness and injures.
Adapted from Ryan's Case for Smile website.
The fabric needs to be 100% cotton and in bright colors or novelty prints! (Some hospitals do not allow flannel or red (red tends to bleed) pillowcases.)
Please read all the guide lines and how to participate on their website HERE
Wrap Pyjama Fairies
I recently found out about this cause on Instagram and knew it was something I wanted to share for the sew-along.
"

Wrap Pyjama Fairies is one the few volunteer charities solely dedicated to helping kids feel more comfortable while in hospital. While other great organizations focus on research and finding a cure, we work to improve the quality of life of children and their families as they undergo surgeries and treatment.
Our pyjamas are specially designed with front opening to make dressing easier and to allow ease of access for the medical professionals. Our surgical gowns are made in beautiful, bright and fun fabrics so that we can relieve some of the fear that the children may have.

" - Wrap Pyjama Fairies

(Website)
I just love this idea of this!
If this interests you please read the rules and information included HERE.


A few other things to mention...
Robes, pillowcases, eye masks and slippers count as well!
So does men's sleepwear and children's sleepwear!
(I know I didn't share anything for them...Forgive me!)


I'll be sharing my initial plans next! Of course...knowing me, they are destined to change!
-'- Jewel
If you have any questions about the sew-along or somethings not clear...please comment below!
Previous Seasonal Sew Wardrobe: Sleepwear Edition Posts:
Welcome (General Information & Rules)